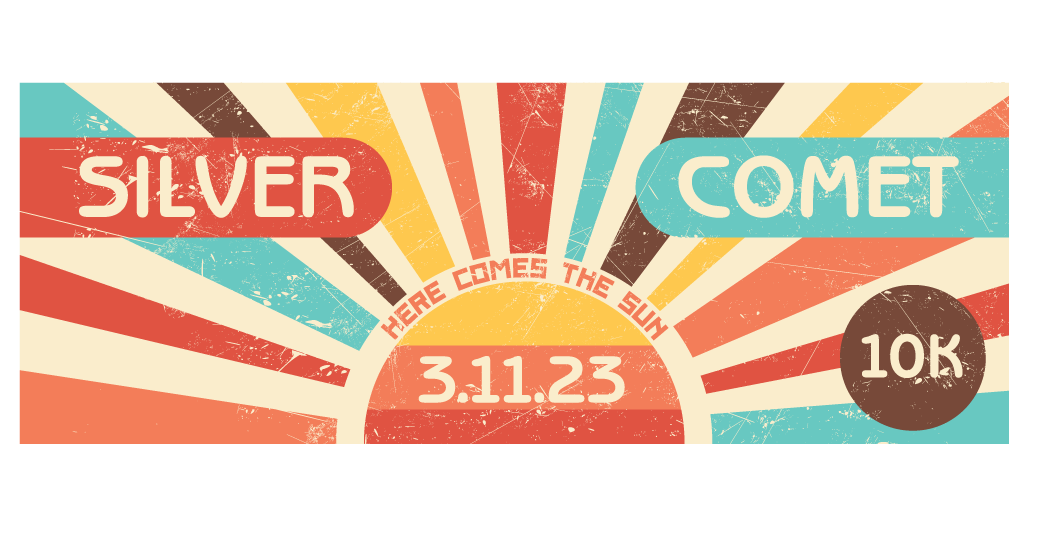 Who wants to run in the snow Saturday???!!!!
The 24th Annual Silver Comet Covid Altered 10k – a Peachtree Road Race Qualifier –  is Saturday March 12, 2022 beginning at 7:00am!   (Registration for the AJC Peachtree Road Race opens March15, 2022).
We thank each of you for helping us navigate and survive the challenges our grass root events have faced during the COVID-19 pandemic. I was still able to present a $1200 donation this month to the South Cobb Booster Club in support of their athletic programs!! We hope this finds you healthy and well in our return to our new normal.   I lost one of my best lifelong friends in January to Covid and then I had it for a 2nd time.  I am also working seven stores with my Greenhouse instead of my normal 4 due to labor shortages, so it has been a whirlwind 2022 so far.
Here is what you need to know so please read to the end!
Refunds/Deferrals: No refunds (per signed waiver when registering) offered, and no deferrals. If you want the option for a refund, Active.com offers insurance at the time of registration.
Race Day Registration:. Online registration will close Thursday night at midnight. You may register at the number pickup on Thursday (see next bullet point)  and race day starting at 6:00 am. Registration form to print.
Packet Pick Up: Number pick up for all virtual & in-person participants Thursday March 10 from 4:30p to 6:30p – at the AutoBell Carwash in the Mableton Kroger parking lot, 4865 Floyd Road Mableton GA 30126. Number pickup will begin at 6:00am race day at the Autobell Carwash – but please make every attempt to pick up early because I will be the only person there handing out numbers.
COVID-19 Altered Race Waiver: Please print and fill out the Waiver HERE!  It is required to pick up your number.
Shirts: Yes, of course, there will be shirts and bumper stickers for each participant!
Police: THIS IS VERY IMPORTANT! There will be no police – no closing the road or trail + road intersections. Participants will start on the sidewalk across from the normal start line across Floyd road from the Kroger. MUST stay on the sidewalk for the first .75  mile down to Wisteria, yield to traffic on Wisteria, and obey all traffic crossings on Floyd Road, and on the trail. Once you turn onto the Silver Comet Trail off Brookwood there are two road crossings – at approx mile 2 at Floyd Road and at approx 2.5 miles at Hurt Road.  You are responsible for running the course as you would if you were on one of your normal runs on your own.  The waiver linked above is required  for participants to sign stating they understand and assume any and all risks!
Timing: For participants who run the official course on March 12, there will NOT be an official mass start or start time. This is a time trial start.  You may cross the start mat at any time from 7:00am to 7:20am.  The mat will be set up on the sidewalk across the street from our start line Kroger.  You must approach from the intersection of NickaJack and Floyd road to avoid your timing chip from duplicate reads.  Please note, the "start line" will just be a volunteer with the start mat protected by cones.  We suggest you park as normal and cross at Nickajack / Floyd Road traffic light and walk down to the start mat just like we always do.  There will be chalk paint arrows and more detailed instructions the week of the race.  Please follow us on Instagram to see videos and updates about the start.  All participants who want an official time will have to cross the start line timing mat during the 20 minute window. There will also be a finish line timing mat. Results will be posted live from the finish line as always.
Peachtree Qualification: YES, if you run the official course during the specified time, you CAN use your time for Peachtree Qualification.
Awards: Overall awards will be awarded to those who run the official course, based on chip time.
Parking: Parking is allowed in the Kroger and Publix parking lots (4875 Floyd Road / NickaJack Road) – away from the stores – however, we recommend you be dropped off / picked up at the end! There will be no shuttles from the finish line (Mavell Road) back to Kroger, and no set up at the start line. Do not block businesses, as in previous years!
Start and Finish Line Addresses: The start line address is: On Floyd Road in front of the Mableton Kroger: 4875 Floyd Road, Mableton, GA 30126. The finish line address is: Silver Comet Trail Head: Mavell Road – at deadend past Nickajack Elementary School (4555 Mavell Road SE), Smyrna, GA 30082. Please remember the trail head is still operational and the trail is not closed – do not block the parking lot. You may arrange pick up or carpooling from the elementary school bus lot.
Course Marking: Please look at the course map and make sure you are familiar with the route. Floyd Road ON THE SIDEWALK  down to left on Wisteria, right on Brookwood, right onto the Silver Comet Trail.  There will be two road crossings once you turn onto the trail, one at Floyd and one at Hicks Road.  No police and no road closings.
Water Stops: We have our awesome South Cobb High School coaches and a soccer team students volunteering for each water stop however please prepare to carry your own water and supplements. Bottled water and bananas will be available at the finish line. Remember that part of your registration fee supports the South Cobb sports booster club!!  I presented them with a $1200 donation
Shuttles/Porta-potties: No shuttles – this has been off the table since the beginning of the pandemic until cobb removed restrictions. I tried to secure a shuttle when restrictions were lifted last week but I've been unable to do so as of March 9! I will have my Expedition ready to provide rides back to the start line since I was unable to secure a bus with the late lifting of covid restrictions in Cobb.
The trailhead bathrooms are open and available for use. The trailheads are marked on the course map.
Photographer: Race day photos by our hired photographer and volunteers are available for free download and will be posted HERE
I  thank each of you again for your support,  patience, and  understanding as we traverse these hopeful yet continued difficult times. We look forward to sharing the beautiful Silver Comet Trail with you, and properly celebrating our 24rd Annual Silver Comet 10k in the potential snow!!!!
At this time we are confident that the 22nd Silver Comet Half Marathon and 11th Annual Marathon on October 29, 2022 will be back to NORMAL race day! (Registration is open on Active.com)  I have already submitted permits.
Share with your friends, running groups, and family!  Please follow us on Instagram and like our pages on Facebook and we will see you running & walking March 12, 2022.
I'll see you running!
Dana Greene
Race Director