Half and Full Marathon Participant Instructions
Fall is finally in the air, and I hope this finds you healthy!!! 
The 21st Annual Silver Comet Half Marathon and 10th Annual Silver Comet Marathon will be held October 29, 2022.  
Following is all the information you need for this year's event.  We thank each of you for your support and following is clarification, FAQ, and hopefully good news to each of you about our races on the 30th!! 
Please read to the end!
Refunds/Deferrals: No refunds or deferrals as stated in registration waiver.  Active.com does offer registration insurance at the time of registration.
Shirts/Medals: Yes, of course there will be shirts and medals for each participant of the Half and Full Marathon, whether in-person or virtual! To receive your medal the week of the race, please register by October 4th – registrants after 10/4 may receive their medal in mail. 5k and 10k virtual only participants will receive "up-cycled" swag from previous years!
Registration: No race day registration. Online registration will close Tuesday October 25, 2021 at 11:59pm.  I will accept registrations during the packet pickup times, but no medal is guaranteed. 
Weather: Wow! It looks perfect. Partly Sunny – low of 53 & high of 69!
Additional Waivers: ALL Participants running the official course race day must sign the Covid and Traffic Waiver, and bring with them to packet pick up.
Packet Pickup:  No race day packet pickup.
** NOTE: We are not offering race day packet pick up! **
Yes, someone else can pickup your packet for you, as long as they have a copy of your ID and signed Covid/Traffic Waiver!
We are offering 2 packet pick up times – Wed Oct 26 and Thur Oct 27 from 4:00 to 7:00pm at Comet Trail Cycles 4342 Floyd Road Mableton (race finish location) –  for all virtual & in-person participants. Packets will include a shirt, medal, number (official course runners only), and other fun goodies! You may pick up packets for other participants but please bring waiver and copy of ID. If you want to run the certified courses on race day (see course maps here!) you MUST pick up your timing number before race day. 
Police: THIS IS VERY IMPORTANT! If you are running an out and back virtual distance on the trail or the certified course –  there will be no police,  no road or  trail + road intersection closings. You MUST stay on the sidewalk for the first 1.5 miles down to the trail and obey all traffic crossings on Floyd Road, and on the trail. You are responsible for running the course as you would if you were on one of your normal runs and of course if you are running virtually.
Timing: For participants who choose to run the certified course on October 29th, there will NOT be an official mass start or start time. The start timing mat will be set up from 7:30am to 8:00am for participants to cross one at a time. The "start line" timing mat will be directly across the street from the Mable House Amphiteatre – 5239 Floyd Road SW, Mableton – on the Trail extension / Sidewalk in front of the Mableton Post Office.  There will be a volunteer with the start mat who will record your race number as you cross.  Participants must cross the mat one at a time. The Mable House Amphitheatre is closed, no one else will be there.  All participants who want an official time will have to cross the start line timing mat during this strict time window.  Please respect social distancing and pick your time to start within this window. Finish line mat will be in place at the certified finish line until 1:30 pm. All participants who want an official time will have to cross both mats during the timing window.
Boston Qualification: YES, if you run the certified course during the specified time, you CAN use your time for Boston Qualification. Each participant will need to send Garmin (or other GPS data) to us, for BQ verification and support.
Awards: Overall awards only (no age group awards this year) will be awarded to those who run the certified course, based on chip time. 
Start and Finish Line Addresses: The certified start line address is: Mable House Amphitheater: 5239 Floyd Rd SW, Mableton, GA 30126. The finish line address is: Comet Trail Cycles: 4342 Floyd Rd SW, Mableton, GA 30126. Please remember the bike shop is still operational and the trail is not closed.
Parking: For those running the certified course, parking is allowed in the DOT lot behind the Arts Center ONLY. Do not park by Mable House or inside the Arts Center lot. Do not park at the post office.  You may also park away from businesses at the Kroger / Publix parking lots which are approximately halfway between start and finish line locations. Do not park in restricted spaces or block business parking.  We recommend you be dropped off/picked up at the end! There will be no shuttles, and no set up at the start line. It is approximately 1.7 miles between start and finish line – consider this for after race walk back to vehicles!
Course Marking: Please look at the course maps and make sure you are familiar with the routes. The Full Marathon Turns will be marked with chalk paint – The half course will be marked – a comet with mileage – on the right hand side of the trail. Image example below: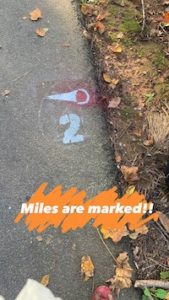 Water Stops: We have our awesome SCHS soccer coaches volunteering for each Half Marathon course water stop from 8:00 to 1:00 with limited water only.  Please carry your own / prepare to be somewhat self sufficient. We will have a volunteer at all marathon water stops except County Line / Isley Stamper (Again – I haven't given up on getting this one covered by race day if you know someone willing to volunteer please have them contact Dana via FB or email.) But again – please prepare to carry your own water and supplements – we will not offer gels/snacks, due to Covid protocols. All water stops are minimal and have single volunteers. Marathon ONLY: there will be 16oz water bottles available at two water stop locations – at Seaboard and Florence Road water stops – if you grab one, please hold the top and bottle until you reach a trash can! Please don't litter and keep the trail as clean as possible.
Porta-potties: The trailhead bathrooms are open and available for use. The trailheads are marked on the course map.
Costumes: Wear your costumes! It is Halloween, so let's celebrate! 
Finish Line: Dana will be at finish line tents with the DJ and 1st Choice Sports Rehab.  We will have bottled water, BioSteel, pretzels, bananas, and other simple goodies. Remember, shirts and packets are not available for pick up on race day – must be picked up at scheduled times.
Photographer: Photographers will be at marathon turn-around and the finish line. These photos will be uploaded  HERE for free download after the race.  Please take selfies and photos, and send them to us, tag us on Instagram and Facebook, since you may be running all over!  Please follow us!
Spectators: You can direct your spectators as you so choose. Spectators should not congregate on the actual trail or close to the finish line. There is an open area for lawn chairs and distance!
Submitting Results: If you run virtually, you may run at any time after Oct 20th through November 7th, and submit times and smart watch data via email to thesilvercometraces@gmail.com.
Shirt & Medal Design Sneak Peeks: Here's our 2021 Half and Full Shirt and Medal designs! Colors of shirts are still going to be a surprise!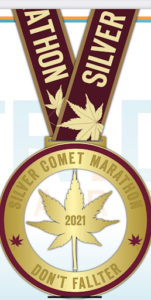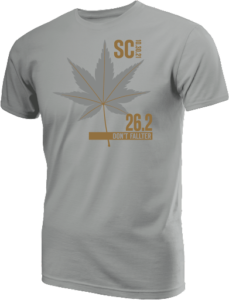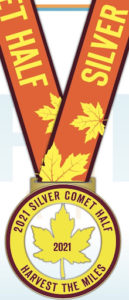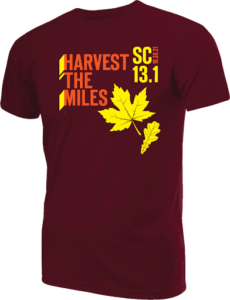 The above information will be sent as a participant email Tuesday 10.26.21.
Share with your friends, running groups, and family! Thank you again for all the support! We will see you running & walking October 30, 2021.
Happy Trails,
Dana Greene, Race Director
silvercometrace@gmail.com